Outdoor Dining At Scampo In Boston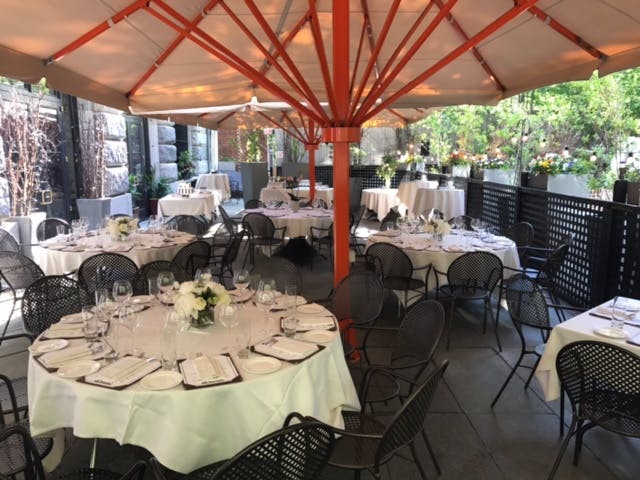 Warm weather calls for *drum roll*...the return of outdoor dining at Scampo! Relish in the fresh Spring air and soak up some extra sunshine this season. What better way to do that than to grab a table at our outdoor patio on your next visit to Scampo located in the Liberty Hotel in Boston. Warmer months are limited here so it is important to take advantage of all that this season has to offer. There are actually quite a few health and wellness benefits you can gain from outdoor dining, the delicious meal is an additional bonus! Stay tuned to learn how outdoor dining can give you an extra pep in your step on your next visit to Scampo.
COVID Safe
Let's start off by addressing the elephant in the room. With mask mandates dropped and COVID levels down we understand that everyone has different levels of comfort when it comes to the social scene. The last thing we would want is for our guests to be uncomfortable. For some patrons, they are fully comfortable dining indoors, but for guests who are more precautious outdoor dining provides them a great opportunity to enjoy a quality meal with friends and family without feeling uncomfortable. Outdoor dining provides guests a fine dining experience with open space and flowing fresh air. Make a reservation today to ensure you're able to secure an outdoor dining experience this Spring.
Catch Some Rays
The return of Spring marks the return of sunshine in New England. Not only does this give you the opportunity to work on getting some extra color but there are also many health benefits to spending time in the sun. Spending time in the sun allows you to get vitamin D! Believe it or not, most people living on the east coast suffer from vitamin D deficiency. Low levels of vitamin D can be responsible for a weakened immune system, poor heart health, depression, and poor bone health. It is crucial to your mental and physical health to do what you can to maintain optimal levels of vitamin D. Dining out at our outdoor patio provides guests with the perfect opportunity to work on their vitamin D while delighting in a delicious Italian meal.
Mental Reset
Talk a pause from the hustle and bustle of the workweek and give yourself a mental reset at Scampo in Boston! Sit back, relax, and enjoy a drink with the fresh air on your face when you dine out on our outdoor patio. Vigorous American work culture often results in getting to spend less time outside and more time cooped up in the office. Spending less time outside has been proven to have negative effects on mental health, One way to combat this is by making active efforts every day to spend time outdoors. Spending time outdoors has been shown to improve overall mood, improve creativity, and improve focus. What's a better way to spend time outdoors than eating?
Outdoor Dining At Scampo In Boston
Make your way over to Scampo in Boston for the finest outdoor dining experience that Boston has to offer! Our menu is composed of a variety of fine Italian dishes that are waiting to be enjoyed outside. Contact us today to make a reservation to secure your spots at our outdoor patio this season. We can't wait to see you soon!